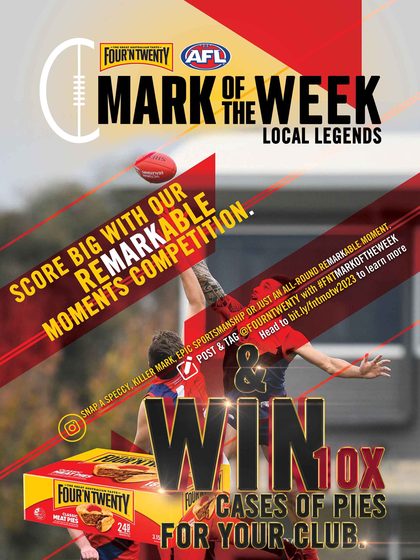 Four'N Twenty are stoked to be launching the 2023 Mark of the Week competition! This is one you don't want to miss!
Every week of the footy season, we are GIVING AWAY 10 Cases (240) of Four'N Twenty Pies for your club to host a celebratory pie night – not to mention bragging rights and legendary status! The grassroots Mark of the Week competition is all about championing and celebrating local footy teams across Australia!
Capture a reMARKable moment on the field, post an image or video on Instagram, tag @fourntwenty #FNTmarkoftheweek and ENTER for your chance to WIN!
A reMARKable moment is:
a fantastic mark or gutsy attempt a milestone game, a moment of good sportsmanship, or key moment on-field (e.g. amazing goal).
Download Poster Here
Winners
1. Zyon Henry from Manor Lakes FNC

2. Rodney Williams from Murray Magpies FNC

3. James Brigden from Sorrento Football Club

4. Hamish Hanrahan from North Albury FNC

5.
FOUR'N TWENTY "MARK OF THE WEEK"  2023 COMPETITION TERMS AND CONDITIONS 
Information on how to enter and the prize(s) form part of these Terms and Conditions. Participation in this promotion is
deemed acceptance of these Terms and Conditions.

Eligibility Criteria 

1. Entry is only open to Australian residents. Entrants under 18 years old must have parental/guardian approval to enter and further, the parent/guardian of the entrant must read and consent to these Terms and Conditions. The winner(s) local football club must have an Australian address to receive the Prize. 

2. Employees (and their immediate families) of the Promoter and agencies associated with this promotion are ineligible to enter. Immediate family means any of the following: spouse, ex-spouse, de-facto spouse, child, or stepchild (whether natural or by adoption), parent, stepparent, grandparent, step-grandparent, uncle, aunt, niece, nephew, brother, sister, stepbrother, stepsister or first cousin. 

3.The Promoter reserves the right, at any time, to verify the validity of entries and entrants (including an entrant's identity, age and place of residence) and reserves the right, in its sole discretion, to disqualify any individual who the Promoter has reason to believe has breached any of these Terms and Conditions, tampered with the entry process or engaged in any unlawful or other improper misconduct calculated to jeopardise fair and proper conduct of the promotion. Errors and omissions may be accepted at the Promoter's discretion. Failure by the Promoter to enforce any of its rights at any stage does not constitute a waiver of those rights. The Promoter's legal rights to recover damages or other compensation from such an offender are reserved.

Entry Instructions 


4. Promotion commences on 29th April at 12pm AEST 2023 and ends on 3rd September at 12pm AEST 2023.

5. To be eligible to enter, players, spectators, clubs, or fans must post an image or video of their Local Legends Mark of the Week on their Instagram feed and tag @fourntwenty #FNTmarkoftheweek. Users must also have their Instagram account set to public. A reMARKable moment is defined as the following: a fantastic mark or gutsy attempt, a milestone game, a moment of good sportsmanship, or key moment on-field (e.g. amazing goal).

6. Incomplete, indecipherable, or illegible entries will be deemed invalid, and entrants can only enter once per week.

7. Weekly entries will close on Wednesdays at 12pm AEST. 

8. The judging will take place at Arize Communications, 1/34 Church Street, Abbotsford 3067 VIC, every Wednesday from 12pm AEST to 5pm AEST. The judges may select additional reserve entries which they determine to be the next best, and record them in order, in case of an invalid entry or ineligible entrant. The winners will be notified via social media and will be announced on @fourntwenty Instagram and @fourntwentypies Facebook page the following week.

9. The best entry each week, as determined by the judges, will win 10 cases (240) of Four'N Twenty Classic Meat Pies for their local football club. Delivery will be scheduled for a day aligned by Patties Foods and the winner, and there will need either the winner or a nominated representative from the club available on site to receive the scheduled delivery. In the event that the winner is regional (beyond 50km of Melbourne, Sydney, Adelaide, Brisbane and Perth), a $500 voucher to their local supermarket may be provided instead. The supermarket will be selected based on ranging of the Promoter's product. This will be at the discretion of Arize Communications.

10. Organisers will try their best to get prizes delivered as quickly and safely as possible, however due logistical delays and unforeseen disruptions affecting delivery services, winners should expect a delay in winning Mark of the Week and receiving prizes.

11. If for any reason a winner is not contactable or does not accept a prize (or an element of the prize) within 72 hours, then the prize (or that element of the prize) will be forfeited. 

12. If any prize (or part of any prize) is unavailable the prize will be substituted (or that part of the prize) with a prize to the equal value and/or specification.

13. Prizes, or any unused portion of a prize, are not transferable or exchangeable and cannot be taken as cash.

14. Entrants agree that they are fully responsible for any materials they submit via the promotion including but not limited to comments, recordings, and images ("Content"). The Promoter may remove or decline to publish any Content without notice for any reason whatsoever. Entrants warrant and agree that: (a) they will not submit any Content that is unlawful or fraudulent, or that the Promoter may deem in breach of any intellectual property, privacy, publicity or other rights, defamatory, obscene, derogatory, pornographic, sexually inappropriate, violent, abusive, harassing, threatening, objectionable with respect to race, religion, origin or gender, not suitable for children aged under 15, or otherwise unsuitable for publication; (b) their Content shall not contain viruses or cause injury or harm to any person or entity; (c) they will obtain prior consent from any person or from the owner(s) of any property that appears in their Content; (d) they will obtain full prior consent from any person who has jointly created or has any rights in the Content to the uses contemplated by these Terms and Conditions, and the Content does not infringe the rights of any third party; (e) they consent to any use of the Content which may otherwise infringe the Content creator's/creators' moral rights pursuant to the Copyright Act 1968 (Cth) and warrant that they have the full authority to grant these rights; and (f) they will comply with all applicable laws and regulations, including without limitation, those governing copyright, content, defamation, privacy, publicity and the access or use of others' computer or communication systems. Without limiting any other terms herein, the entrant agrees to indemnify the Promoter for any breach of the above terms. 


15. As a condition of entering this promotion, each entrant licenses and grants the Promoter, its affiliates and sub-licensees a non-exclusive, royalty-free, perpetual, worldwide, irrevocable, and sublicensable right to use, reproduce, modify, adapt, publish and display their entry (which shall include Content) for any purpose, including but not limited
to future promotional, marketing or publicity purposes, in any media, without compensation, restriction on use, attribution or liability. 

16. Entrants consent to the Promoter and its affiliates and/or related entities on behalf of the Promoter; a worldwide, royalty-free, non-exclusive, transferable right to use your video(s), photo(s) and/or other content posted to Instagram, or Facebook, together with your social media handle, social media user name, profile picture, caption and location information you may have included in your content ("User Content") that you have tagged with any of the Promoter Hashtag(s) (#FNTmarkoftheweek) in any media, including but not limited to on its webpages and social media pages, newsletters, third party sites, prints, stores for its marketing and/or its advertising.

17. If this promotion is interfered with in any way or is not capable of being conducted as reasonably anticipated due to any
reason beyond the reasonable control of the Promoter, including but not limited to technical difficulties, unauthorised intervention or fraud, the Promoter reserves the right, in its sole discretion, to the fullest extent permitted by law (a) to disqualify any entrant; or (b) to modify, suspend, terminate or cancel the promotion, as appropriate. 

18. Nothing in these Terms and Conditions limits, excludes, or modifies or purports to limit, exclude or modify the statutory consumer guarantees as provided under the Competition and Consumer Act (Cth), as well as any other implied warranties under the ASIC Act (Cth) or similar consumer protection laws in the States and Territories of Australia ("Non-Excludable Guarantees"). Except for any liability that cannot by law be excluded, including the NonExcludable Guarantees, the Promoter (including its respective officers, employees and agents) excludes all liability (including negligence), for any personal injury; or any loss or damage (including loss of opportunity); whether direct, indirect, special or consequential, arising in any way out of the promotion. 

19. The Promoter is Patties Foods Pty Ltd (ABN 62 007 157 182) of Level 2, 1 Joseph Avenue, Mentone VIC 3194.