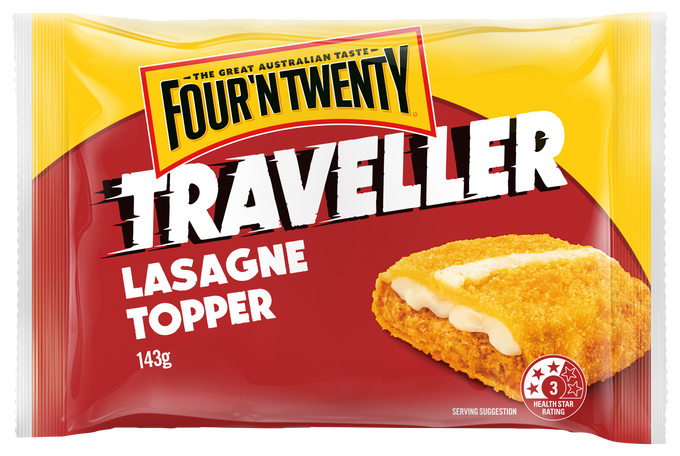 Traveller Lasagne Topper
 NZ Quality beef mince cooked in a rich bolognaise sauce, topped with pasta and cheese, encased in a golden crumb. 
Nutritional Information:
Serving Size: 143g
Servings per Package: 1
 

Avg Qty per Serving 

Avg Qty per 100g 

Energy  

1020 

kJ 

    815 

kJ 

Protein  

    13.8 

g 

11.1 

g 

Fat , total 

9.8 

g 

7.8 

g 

      – saturated  

4.5 

g 

3.6 

g 

Carbohydrate 

23.6 

g 

18.9 

g 

      – sugars 

2.3 

g 

    1.8 

g 

Sodium  

599 

mg 

479 

mg 
*Percentage Daily Intakes are based on an average adult diet of 8700kJ. Your daily intakes may be higher or lower depending on your energy needs.
Ingredients
Beef (24%), Batter [Water, Wheat Flour, Maize Starch (Maize), Salt, Thickeners (401, 464)], Breadcrumbs [Wheat Flour, Glucose, Salt, Yeast, Natural Colour (100)], Cooked Pasta (14%) [Wheat Flour, Water],  Water, Tomato Paste, Soy Protein, Cheese (7%) [Milk, Rennet, Anti-caking Agent (460), Preservative (200), Emulsifiers (450, 452), Acidity Regulator (330)], Sauteed Onion, Seasonings (3.5%) [Soy, Acidity Regulator (330), Anti-caking Agent (551), Spice Extracts (160c, 100), Flavour Enhancer (635), Flavours, Emulsifiers (433, 451), Milk, Antioxidant (Vitamin E), Sulphites], Capsicum, Vegetable Oil. 
Allergen
Contains Gluten (Wheat) and Soy
May Contain Egg, Fish, Crustacea and Sulphites.